This time of year is always bursting with color outside. And with all those blooming buds and fresh green shoots, it's understandable that you would want to bring that vibrancy inside, too.
Where to start? Well, as always, we do the heavy lifting for you—scrolling through Instagram for the latest inspiration, this time with an eye on the dining room (where hopefully you can host dinners again soon). Not that we were surprised, but the most popular posts on Instagram this week are making big, springlike statements.

1. Lilac-upholstered chairs


Nothing screams spring quite like this shade of pale purple, and we're down for all of these fun and flirty lilac vibes in this post by @mangitas.
"Interior design trends are starting to use lilac more because it's a soft color that keeps the room feeling bright," says designer Andra DelMonico of Trendey. "It also pairs well with a broad range of neutral shades, and looks especially beautiful in rooms that are decorated with a feminine, elegant, luxurious, or modern theme."

2. Mesh chandelier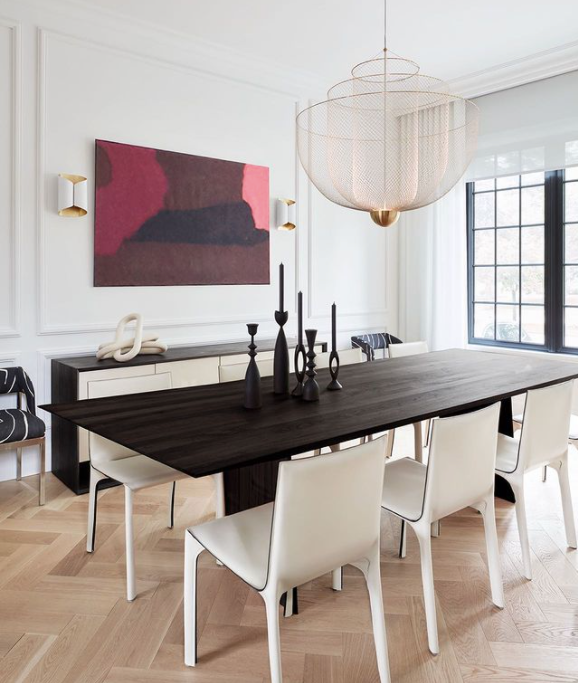 This mesh chandelier from @houseandhomemag is the perfect example of where bold meets subtle, and evokes a light, airy feeling reminiscent of wings—in other words, perfect for this season.
"Mesh gives your chandelier an edgy and modern feel while also allowing plenty of light out," says DelMonico. "Modern trends have taken mesh beyond the industrial light fixtures and elevated it. This combines interior design trends and helps to give your home an urban influence without being over the top."

3. Black chairs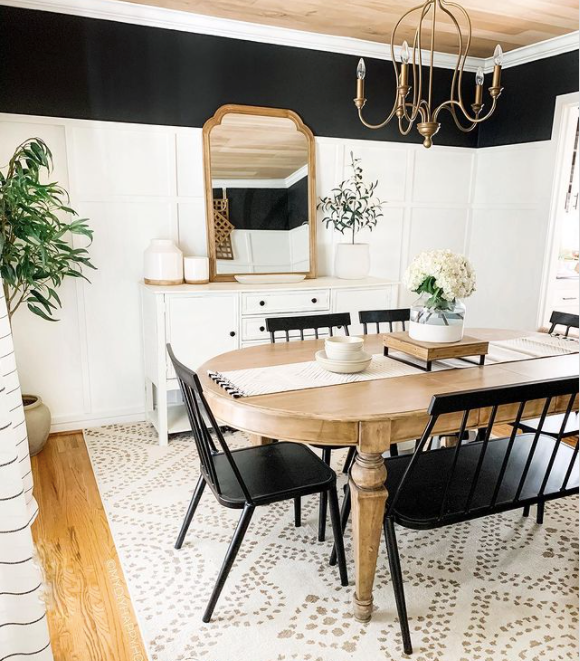 We know—black feels like the antithesis of all things spring, but hear us out: As we make way for introducing more color indoors, it helps to have a couple of grounding pieces like these black chairs featured by @mydiyhappyhome.
"Black furniture, and specifically black chairs, have come into fashion with the increased adoption of minimalist styles," says interior design expert Phillip Ash of Pro Paint Corner.
"Black chairs, which used to seem cold and Gothic, are having a renaissance, and can bring depth and drama to a room while still being warm. Look for black pieces with a high finish to catch the light, and use other elements like natural wood and warm neutrals to create interesting contrast."
4. Outsized modern paintings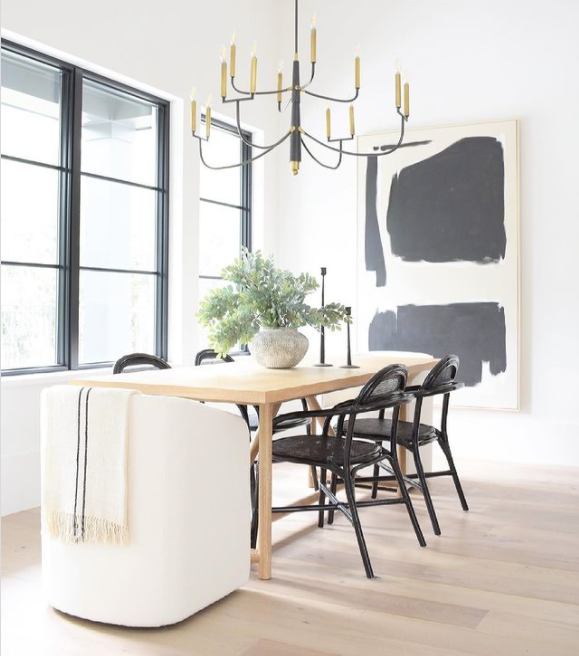 Since the museums closed, it's been all the rage to create one's own. Fortunately for us art lovers, this trend of oversized modern paintings (featured by @zdesignathome) doesn't seem to be going anywhere.
"Incorporating large-scale modern art gives your residence a unique flavor, and a sense of grandeur and cleanliness," says Ash.
Experiment with the scale and shape of the piece you want to buy. Then browse either stand-alone pieces, or consider diptychs or triptychs (two or three paintings as a set).
5. Natural-wash wood table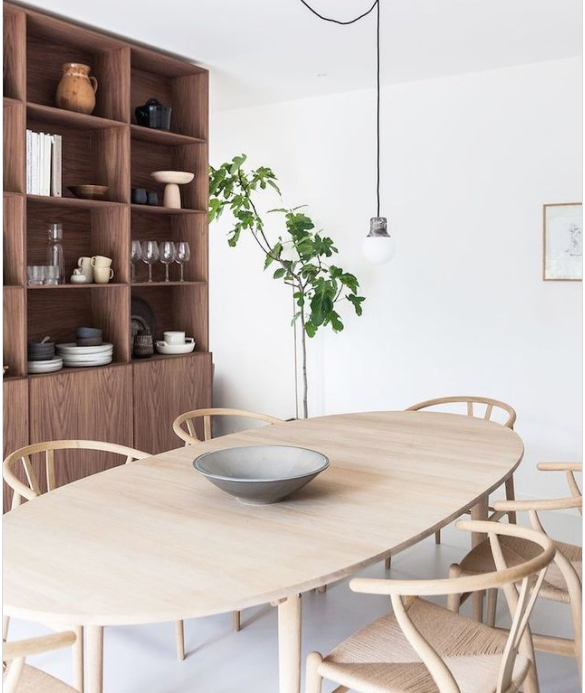 This natural-wash wood table is a statement in its own right, as we can see from this post by @melinteriors.nl.
"Incorporating lighter, natural-washed wood into your space invokes nature and creates a polished yet rugged look," says Ash. "A natural-washed wood table can also emit a sense of modesty and frugality, which is appealing for millennials and Generation Z. Pair with pastels, or items that are high-contrast in color or finish."